The Pinnacle of Amenities: Atwood Apartments in Reno
At Atwood, amenities to build a lifestyle around takes on a whole new meaning. As the premier luxury apartment community in the Reno Experience District, no detail has been overlooked. Offering uniquely contemporary facilities such as a private whiskey lounge and community pet spa, Atwood is for those who value and appreciate the finer things.
Here is a quick overview of the top amenities that make Atwood so special.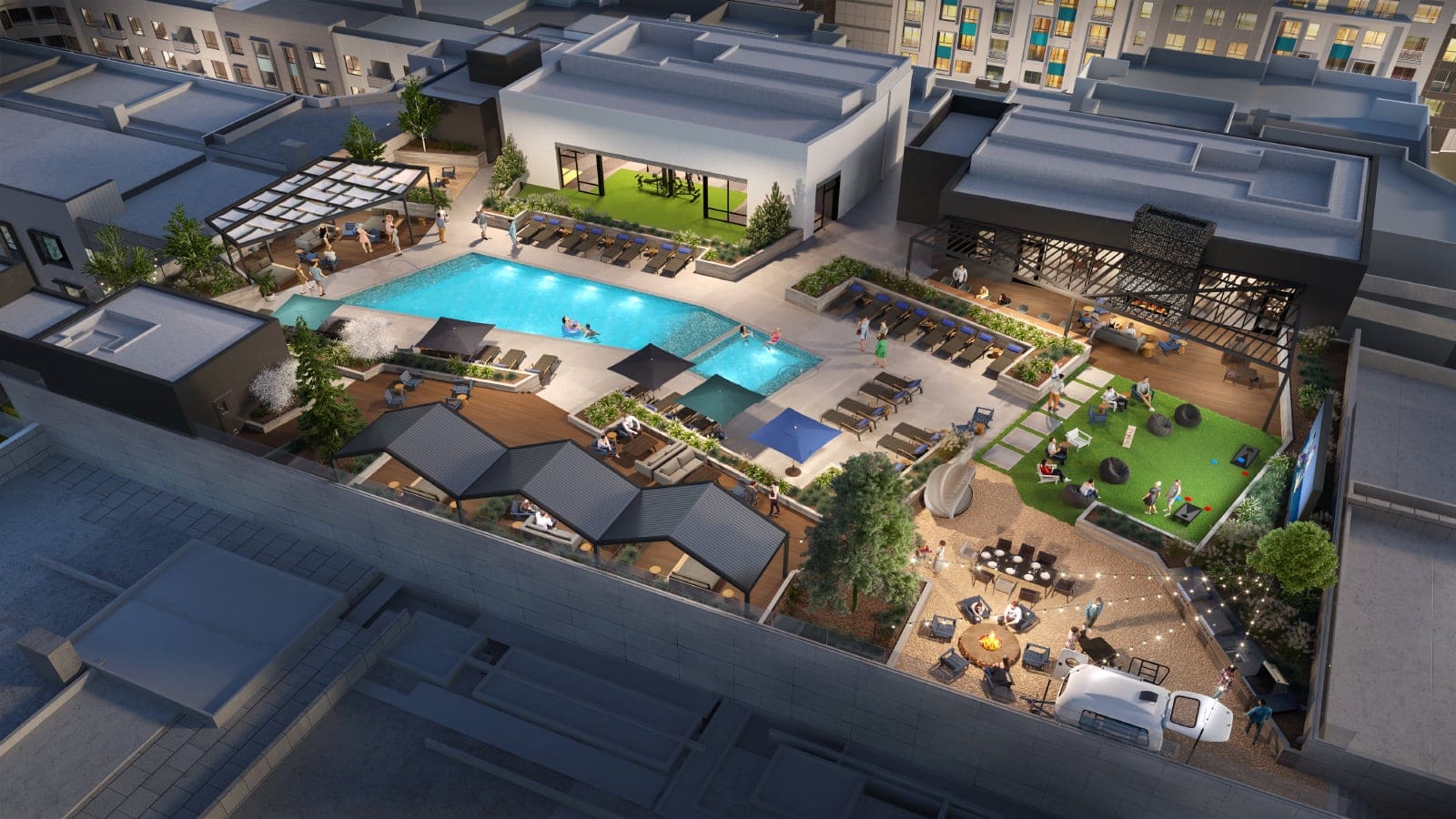 ROOFTOP BLISS
The heart of the Atwood experience is the sprawling rooftop amenity complex, where every leisure time necessity is taken care of. From the stunning pool to fire pit adorned outdoor lounge areas, dedicated barbecue zones, plenty of games to keep you busy and so much more, residents often find that the rooftop is their home away from home.
Craving a glass of cold suds on a hot day? Make your way to the top and chill out in Atwood's private rooftop beer garden. Bottoms up.
ELEGANT GATHERING SPACES
Classy and urbane, the Atwood clubhouse offers a selection of indoor and outdoor socializing venues to host everything from intimate chats with good friends to lively gatherings or celebrations. Designed to be at once comfortable and stylish, the clubhouse provides the perfect blend of relaxation and beauty.
Looking for a charming ambiance to catch up on emails? Bring your device. Wi-Fi is available throughout community common areas.
THE STAYCATION REIMAGINED
Residents find it hard to book a vacation elsewhere when everything you find at a luxury resort is waiting a short elevator ride away. Atwood's heated resort-style pool and spa features a Baja shelf for suntanning, lines of upscale lounge chairs, poolside cabanas and a jumbo LED screen for watching the big game in your swimsuit.
ACHIEVE YOUR PEAK
Atwood's high-performance fitness center meets or exceeds all your wants for the latest in weight training and exercise equipment. From barbells to cardio, including Peloton bikes, everything you need to stay in shape is at your fingertips.
THE ULTIMATE TV "ROOM"
Loaded with cozy bean bags and Adirondacks, Atwood's rooftop TV lounge is the perfect destination for movie nights under the stars. With the city expanding off into the distance and plenty of roof to stretch out on the turf, prepare to be entertained in style.
CULINARY ENTHUSIASTS DELIGHT
If you like good food, you will love the sophisticated event kitchen at Atwood. Complete with pizza oven and designed for hosting a wide selection of gastronomical happenings, everyone from amateur chefs to epicureans feel at home here.
In addition to food events, residents of Atwood can take part in an array of planned community activities throughout the year. This is a place where life is meant to be lived to the fullest.